The digital part of the World's largest hybrid electronics trade fair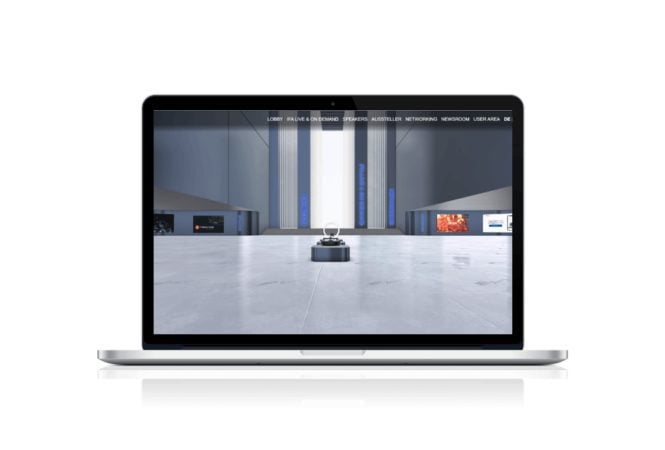 The IFA takes place in Berlin and is considered the leading trade fair for the global electronics industry. Every year, important new products such as smartphones, household appliances and consumer electronics are presented to an international audience. To allow the industry's most important trade fair to take place despite a global pandemic, it was declared a "Special Edition" 2020: IFA took place both as a live event for selected participants in Berlin and online on the eventCloud platform.
In the IFA Xtended Space, visitors were able to participate in press conferences, lectures and panels via live streaming and could also watch them afterwards. In futuristically designed exhibition halls and showrooms in 3D, product innovations from exhibitors such as Miele, Huawei and Hyundai were displayed.
A virtual extension of a physical trade fair
Innovative event spaces
3D showrooms
Sponsor & product placement
Broadcasting - Live & On Demand
Networking area
International availability
Creating an individual event platform
A digital solution was needed that would not replace the physical trade show experience, but make it location-independent and internationally accessible to an unlimited audience. Online visitors should be able to follow the event via a livestream. Exhibitors aimed to gain additional reach and interaction opportunities through the online solution. For Messe Berlin, the organizer of IFA, it was particularly important not to simply mirror the event in the digital world. Rather, the familiar trade show experience had to be extended digitally – with added value for all participants, on-site and remote. For the successful combination of on-site event and virtual extension, a platform with unlimited design possibilities was needed. The decision fell on rooom not only because of the versatile features, such as tracking, networking, and much more, but above all the flexibility of the existing software, which was customized accordingly for the IFA and had various interfaces.
Planning a virtual event?
Get in touch with our experts for advice and support. In a Discovery Workshop we will develop the perfect strategy for you.
A hybrid event setting new standards
After less than three months of development, the mission "IFA Xtended Space" was accomplished: In a virtual 3D world, the trade show could be explored in full freedom of movement on the screen. With a few clicks, product innovations were presented in 3D showrooms, in some cases even with Augmented Reality (AR) projections. Presentations, press conferences, panels and keynotes could be viewed in an interactive livestream as well as on-demand around the globe. A special highlight: digital business cards of exhibitors and speakers were available at the event for easy networking and contacting via video and live chat.
IFA was the only electronics trade show in the world that was able to take place at all in 2020, setting new standards in the industry. As a pioneer in hybrid events, IFA 2020 has shown that digital event platforms like eventCloud can offer real additional value.