Virtual Showroom for BD: A 3D Laboratory for the Presentation of Medical Devices & Laboratory Solutions
scroll to down
Virtual Showroom for BD: A 3D Laboratory for the Presentation of Medical Devices & Laboratory Solutions
The best presentation at virtual events
Becton Dickinson, known as BD, is one of the largest international medical technology companies focused on improving the world of health in medical research, diagnostics, and patient care and treatment. BD helps its customers achieve better clinical results, reduce costs, increase clinical and laboratory efficiency, improve patient and user safety, as well as expand access to healthcare.
Usually, BD promotes its products and solutions at conventions and conferences so that interested customers can fully understand the portfolio. However, COVID-19 suddenly reduced the number of live events, making product presentations and face-to-face interaction with customers impossible. This quickly brought a current trend into focus for the company: virtual and hybrid events, which are establishing more and more as an alternative to face-to-face events. But BD didn't just want to present brochures at virtual events, they wanted to design an interactive exhibition booth for the best product and company presentation.
Marketing with 3D technology
At international conventions in the USA, BD had already made some experiences with virtual exhibition booth solutions. The BD Marketing team in Germany was very interested in this solution and started looking for the best provider. A local company should be consulted, because it was important from the beginning to have a local contact person who is easy to reach.

Through a typical online research, they came across the 3D platform of rooom, that offers virtual exhibition booths. The main argument for the 3D experts from Germany was the simple implementation, because 3D models can be easily created from photos with rooom - CAD data is not mandatory. Excellent references and the mention of rooom by a well-known booth builder indicated experience in the field of virtual trade fairs and exhibitions, so that they decided to cooperate with rooom. BD not only found a regional contact for the long-term implementation of virtual projects, but also an innovative and sustainable solution for virtual presentations, regardless of the pandemic.
From the virtual exhibition booth to a customized showroom
The result was a 3D exhibition booth whose content could be easily adapted and exchanged using rooom's DIY platform. This allowed to present the booth at multiple digital conventions and events. Integrated screens for video embedding, digital brochures to flip through, promotion banners and avatars with business cards turned the booth into an interactive experience. Since rooom also offers a tracking function, visitor numbers and click rates could be easily evaluated after the events.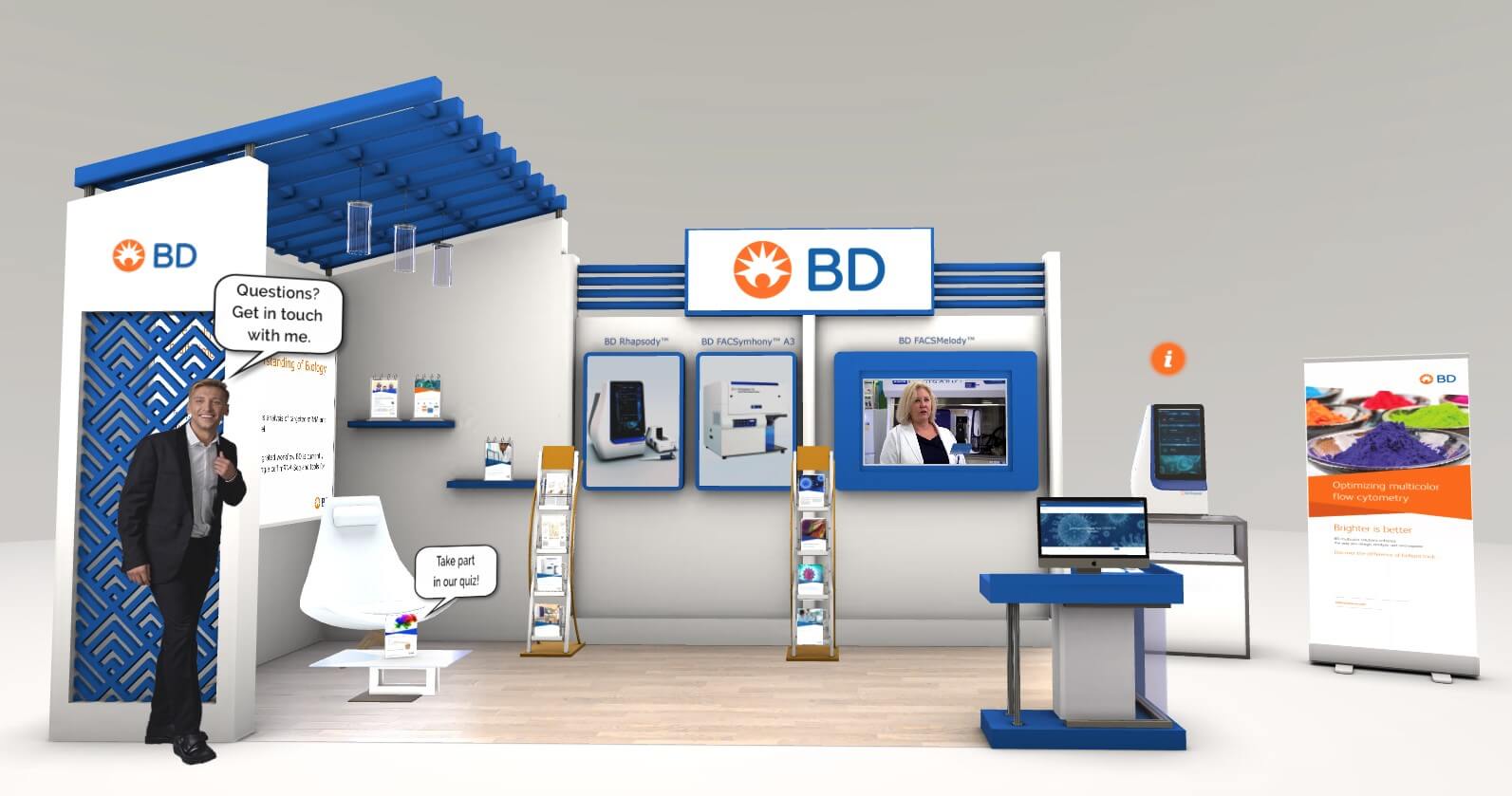 After this success, BD wanted to make the next step: Not only virtual info brochures, but also the laboratory systems should be visualized in 3D. To present the portfolio, a virtual laboratory was created as a showroom with interactive 3D product models. The showroom, consisting of a central lobby and four laboratories, was completely modeled in 3D - according to BD's ideas and wishes.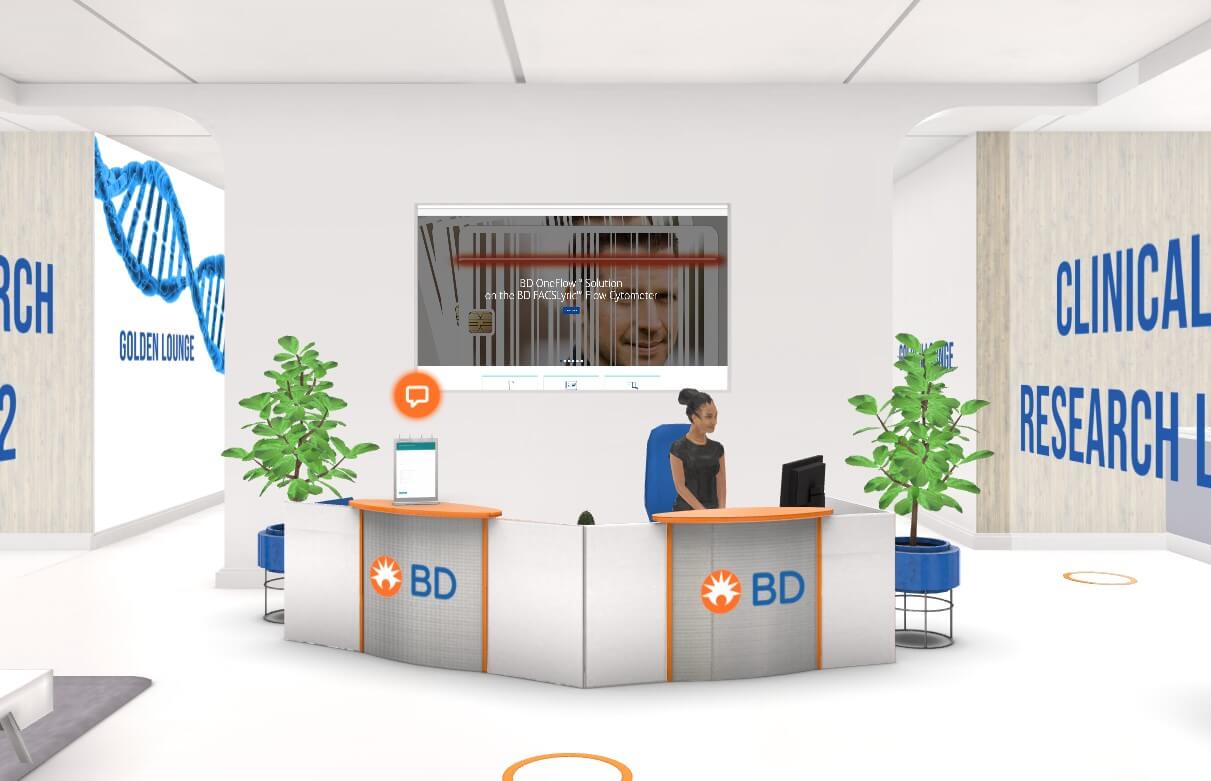 Each of the four labs represents a different customer segment and addresses different needs and product solutions. The highlight are the 3D products: The labs include a total of nine 3D models of medical devices that are used in cancer cell identification, for instance. Clicking on the devices opens rooom's 3D Product Viewer, which allows visitors to view the objects from all angles. A projection in Augmented Reality Software is possible as well.
Info documents and videos have also been integrated to explain the experimental workflow in detail. They provide additional information on the products for customers and interested parties. In the "Golden Lounge", new and very special products get an exclusive presentation.

In a video trailer you can get an exclusive preview of the digital showroom. It gives an overview of the various labs and the equipment they contain - perfect for an advertising campaign.

Even though the first drafts did not exactly match the expectations, initial dissonances were quickly resolved through particularly good communication, flexibility and common understanding. With regular meetings to discuss design and content, it was possible to create an excellent result that met all of BD's wishes. This is how the project turned into an outstanding collaboration for both sides.
Immersive lab experience using storytelling
In the future, the virtual lab will be used primarily in sales. This will enable BD's sales representatives to give guided tours to new and existing customers - 100% virtually, of course. The 3D devices are presented in their typical environment in the virtual laboratory. Furthermore, the medical technology workflow with its different steps is narrated, visualized and explained. Through the guided tours, customers can easily immerse themselves in the world of BD and enjoy a virtual experience. In this way, the personal exchange is maintained and the laboratory solutions are presented in an innovative way.

"The virtual showroom allows us not only to present our portfolio in an innovative way, but also to tell the story of our product solutions."

Dr. Stefan Waltering, Product Manager Cell Analysis at BD
Another advantage of the showroom is that sales representatives can find all relevant information and materials, such as documents and brochures, in one place. On top of that, all content can be easily customized by BD itself. The platform's flexible Do-It-Yourself concept allows to exchange documents without rooom's assistance.
The journey continues...
For BD, the 3D exhibition booth and the virtual lab were just the beginning of the cooperation with rooom. Based on the positive experience, further projects are already in the pipeline.
We are very proud that BD is happy about our work and that we have gained a great customer. The project was also an enrichment for us, as we were able to gain valuable experience for 3D visualization in the technical and medical field. Or as Dr. Stefan Waltering said:
"Excellent communication and flexibility made working with rooom a highlight for us."

Dr. Stefan Waltering, Product Manager Cell Analysis at BD